James Edward Webb and Sarah Kathleen Payne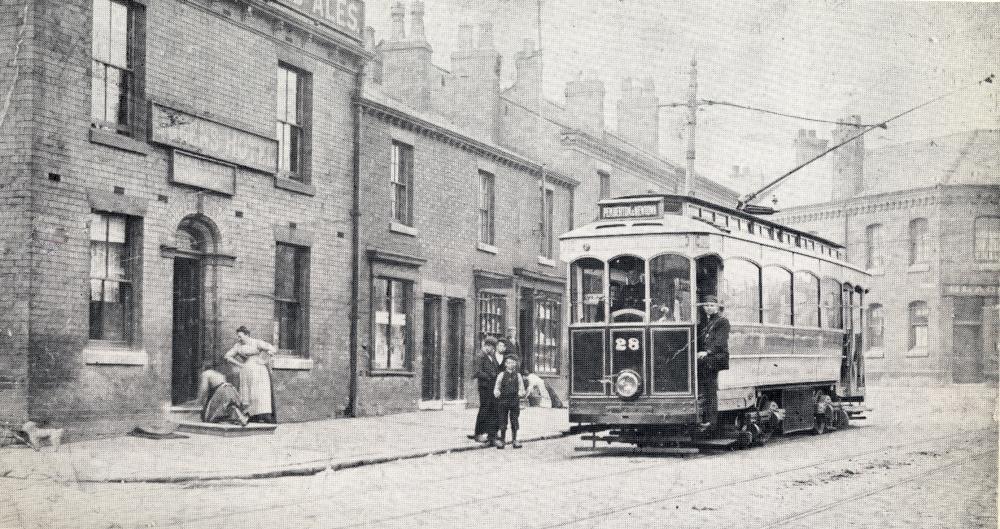 Pemberton in 1905 (via WiganWorld)
When
James Edward Webb
was born in 1887, in Lancashire, England, his father,
William Richard
(1859-1942), was 28 and his mother,
Elizabeth (nee Dutton)
(1859-1943), was 28. Census records suggest that he was born on June 24, 1887 but his baptismal record suggests he was born on November 4. He was baptized on February 3, 1888 (the same day as brother Joseph) at St. John the Divine, the parish church in Pemberton, Lancashire.
James emigrated with his parents and several of his siblings (
he had five brothers and three sisters
) to Canada between 1903-1904.
James married
Sarah Kathleen Payne
on January 1, 1910, in Wentworth, Ontario, Canada. When Sarah Kathleen Payne was born on June 22, 1888, in Ontario, Canada, her father,
Joseph Robert Payne
was 24, and her mother,
Sarah (nee McDonald)
, was 25.
Sarah and James had three children over 24 years:
William Anthony (1915-1973)
Sadie Elizabeth (1934-2008) (who married Kenneth Thompson)
*Note: I have found no records related to the birth, life or death of Sadie other than a
burial at Chapel Hill Memorial Gardens in Stoney Creek
. An Ancestry user suggests there is a connection to this family.
In 1911, shortly after their marriage, James and Sarah are living with James Jr. at 86 Wellington Street in Hamilton (the record does not reflect whether this is Wellington North or South, but we can confer it was North because James Jr.'s birth record reflects 85 Wellington Street North. Neither of the homes are still standing). In 1911, James is working in a grocery (James Jr.'s birth record confirms this as his father's occupation is listed as a "carter" which suggests that he was delivering groceries).
The couple are found with their two older children at
173 Oak Avenue
in Hamilton on the 1921 Canadian Census. James' occupation appears to be a carpenter.
173 Oak Avenue, Hamilton (image via Google Maps)
Sarah predeceased her husband and died on April 16, 1947, in Hamilton, Ontario, Canada, at the age of 58. James died on February 22, 1972, in Hamilton, Ontario, Canada, at the age of 84. The couple are buried in Woodland Cemetery (Section 20, Lot 108 (west grave)). The record suggests "James Edward Webb of 51 Douglas Street purchased this 30-square foot, single grave in April 1947. There are two burials at this grave." The stone reads "WEBB, James E., 1887-1972, hus. of Sarah K. PAYNE, 1890-1947."
51 Douglas Street, Hamilton (image via Google Maps)